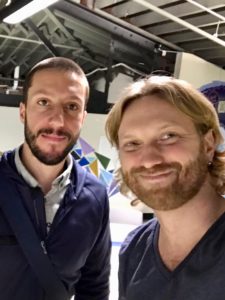 What happens if you run 2-miles a day….every day….forever? That's just one of the projects Rick Gloo is tackling in his quest for continuous self improvement. RIck is a guy who has one foot in software development and the other in health & wellness. So this episode is going to be light on business but heavy on hacking your habits to make them stick and maybe improve yourself in the process.
Rick went from someone who was less-than-active and less-than-healthy to plants-only ultra marathoner and we'll talk about that process as well as what it's done for his life.
In our hour-long conversation we dissect:
Self-motivation
Moving towards a plant-based diet
Why you should find a mentor – and how
Ultra-Marathoning
Hacking Your Habits
Maximizing Minimums
….and more.
You can find Rick on Instagram and oh yeah, he's got his own Podcast – check it.
As always, music for this episode is provided by Jordyn Edmonds.